"Serving as Christ's hands and heart in St. John's County and beyond…"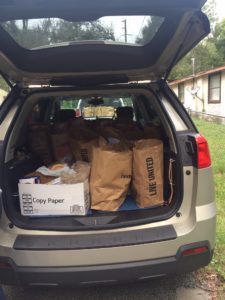 We are so blessed by the giving nature of this community. Nothing is impossible!  Here are some of our many ministries:
 Feed My Lambs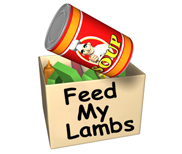 Each month St. Patrick's Episcopal Church delivers groceries to approximately 50 families whose children attend Crookshank Elementary School in West St. Augustine. This program is unique because we deliver the food directly to each family and spend some time catching up on their school and other activities. We take along treats, or books, warm jackets, and other items depending upon the time of year. This program helps to give these families a helping hand at the end of each month when things are the toughest financially. School personnel have verified that "our lambs" are better behaved and doing better in their studies because of this feeding program. We can always feed more families, so we always need more people willing to "shop for our lambs". If you would like to donate a bag of food click on the Feed My Lambs Food List tab under the Missions tab above for a list of requested food items.
You are also welcome to volunteer to go with our delivery team. Delivery is usually the 4th Saturday of the month.  Check the St. Patrick's Calendar on this website for exact delivery dates.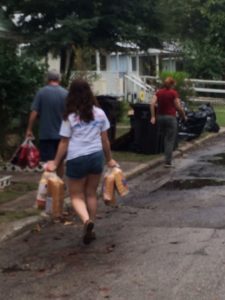 Collecting Bug Spray for Homeless
St. Patrick's serves as a collection site for bug spray to protect the homeless population in Saint Johns County.  A simple can of bug spray will not only reduce the annoyance of mosquitoes and other pesky insects, but may also reduce the need for medical care among our homeless .  If you would like to help with this outreach ministry please drop off your donations of bug spray to St. Patrick's and we will deliver them!
Thank you!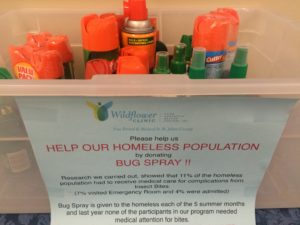 School Supplies Collection
In conjunction with the Feed My Lambs program, each July-August we collect school supplies for the disadvantaged children at Crookshank Elementary. These supplies are delivered to the school to go into their supply closet so teachers are able to give a needed school supply to individual children whose families are unable to provide.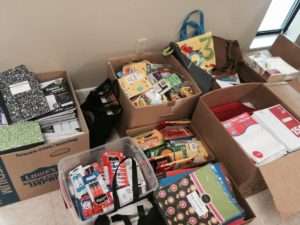 Cuba and Peru Missions
We have a sister parish, La Transfiguracion, in Tabor, Cuba. The Reverend Leandro Cardona is their pastor. Occasionally parishioners are able to travel there to get to know the folks there and to share our passions, successes, needs and worship. .  Recently we have begun a similar relationship with folks in Peru.  Watch for more information about this new ministry.
ERD: Bringing healing to a hurting world
Episcopal Relief and Development, through your generosity, makes it possible for people to feed their families, earn more income, and move from poverty to prosperity. ERD also responds in time of crisis to disasters all around the world, ensuring that people had the immediate assistance they needed as well as long-term support to rebuild their lives and communities. Partnership with Episcopal Relief & Development is evidence of our strong commitment to serve others in Jesus' name.
 Operation Christmas Child

. Each October-November, we participate in Operation Christmas Child. This project packs "shoeboxes" full of goodies to be distributed to children around the world. In the past our boxes have gone to Africa, Afghanistan, the Baltic, and Asia. We enclose notes and sometimes even receive replies from the children who receive our gifts.
 United Thank Offering (UTO)
The UTO is a women's ministry sponsored mission of the Episcopal Church. Women, men and children give daily thanks to God for their blessings, by twice a year filling their little blue boxes. These contributions throughout the year raise $2 – $3 million every year in the Episcopal Church for domestic and international projects. Over 100 grants are awarded each year for buses, pre-school projects, food banks, clinics, etc, anything that will help the church spread Christ's message throughout the year. Our offerings are made in the spring and fall of each year, on the Sunday we affectionately call "Noisy Sunday" when we fill our buckets with offerings.
Even with all these activities, we still feel called to do more. What is your passion?